---
请访问原文链接:Adobe Creative Cloud 2021 (macOS, Windows),查看最新版。原创作品,转载请保留出处。
作者主页:www.sysin.org
抄袭者 macz、qq_23930765、hanzheng260561728 请远离本站!!!
---
什么是 Creative Cloud 创意应用软件
Adobe Creative Cloud 创意应用软件将新版本的 Adobe 创意应用软件(包括 Photoshop、Illustrator 和 InDesign)带到了您的指尖。您可以自行决定其部署方式和时间。
Adobe Creative Suite 6 发布以来,我们已增加 1000多种新功能,旨在提高生产力、支持新的标准和硬件,并简化日常任务 (sysin)。如果您仍在使用 Creative Suite,请立即转换使用创意应用软件 Creative Cloud,切勿错失良机。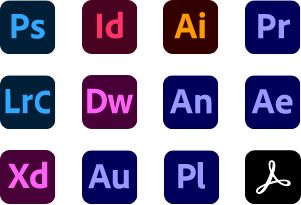 专业高效的创意应用软件
Creative Cloud 创意应用软件可以满足您的各种业务需求,包括修改照片、设计图形和插图、编辑视频等等。
Adobe 创意应用软件简介
Photoshop
Create beautiful images, designs, and artwork anywhere.
编辑、合成和创建精美的图像、图形和艺术作品。
Illustrator
Create beautiful vector art and illustrations.
创作精美的矢量图和插图。
InDesign
Page design and layout for print and digital media.
设计和发布面向印刷和数字出版的优美版面。
Premiere Pro
Professional video editing for film, TV, and the web.
符合行业标准的专业视频和电影编辑。
After Effects
Create motion graphics and visual effects for film, TV, video, and web.
气势恢宏的视觉效果和动态图形。
Adobe XD
Design, prototype, and share user experiences.
设计适用于 Web、移动设备、语音等内容的用户体验,打造互动交互与体验平台。
Dimension
Create photorealistic 3D images for branding, product shots, and package design.
用于产品和包装设计的逼真 3D 影像。
InCopy
Make text edits and layout modifications without impacting designs.
与文案人员和编辑合作。
Lightroom Classic
Desktop-focused photo editing.
针对台式机优化的照片编辑。
Bridge
Centralize your creative assets.
集中管理您的创意资源。
Character Animator
Animate your 2D characters in real time.
实时生成动画,效果超群。
Audition
Audio recording, mixing, and restoration.
专业音频工作站,通过音频让故事变得生动。
Media Encoder
Quickly output video files for virtually any screen.
快速输出几乎适用于任何屏幕的视频文件。
Animate
Design interactive vector animations for multiple platforms.
崭新的动画时代。任何平台、设备和样式。
Dreamweaver
Design and develop modern, responsive websites.
设计和开发新式的响应式网站。
Prelude
Metadata ingest, logging, and rough cuts.
元数据采集、记录和粗剪。
系统要求
Adobe Creative Cloud 2022 系统要求:
macOS Intel x64
macOS Catalina (version 10.15) or later | recommended macOS Big Sur (version 11) macOS Catalina (version 10.15)

macOS Apple Silicon
macOS Big Sur (version 11.2.2) or later

Windows
Windows 10 (64-bit) version 1909 or later; LTSC versions are not supported
Adobe Creative Cloud 2021 系统要求:
macOS Intel x64
macOS Mojave (version 10.14) or later | recommended macOS Big Sur (version 11) macOS Catalina (version 10.15)

macOS Apple Silicon
macOS Big Sur (version 11.2.2) or later

Windows
Windows 10 (64-bit) version 1809 or later; LTSC versions are not supported
Adobe Creative Cloud 2020 系统要求:
macOS
macOS version 10.13 (High Sierra), macOS version 10.14 (Mojave), macOS version 10.15 (Catalina) (macOS 10.13.6 or later is recommended for best performance)

Windows
Microsoft Windows 7 with Service Pack 1 (64-bit), Microsoft Windows 10 October 2018 update (64-bit) version 1809 or later
下载地址
已更新:Adobe Creative Cloud 2022 (macOS, Windows) updated Aug 2022
---
---
如果文章中使用的内容或图片侵犯了您的版权,请联系作者删除。如果您喜欢这篇文章或者觉得它对您有所帮助,欢迎您发表评论,也欢迎您分享这个网站,或者赞赏一下作者,谢谢!
---
Pageviews:
---