更新日期:Wed Sep 13 2023 10:38:50 GMT+0800,阅读量:
请访问原文链接:DBeaver Ultimate Edtion 23.2 Multilingual (macOS, Linux, Windows) - 通用数据库工具,现已集成 ChatGPT,查看最新版。原创作品,转载请保留出处。
作者主页:sysin.org
---
通用数据库工具
DBeaver 是一个通用的数据库管理工具,适用于需要以专业方式处理数据的每个人。使用 DBeaver,您可以像在常规电子表格中一样处理数据,根据来自不同数据存储的记录创建分析报告,以适当的格式导出信息 (sysin)。对于高级数据库用户,DBeaver 建议使用强大的 SQL 编辑器、大量管理功能、数据和模式迁移能力、监控数据库连接会话等等。开箱即用的 DBeaver 支持 80 多个数据库。
支持的数据库
Relational | Analytics | Document-Oriented | Cloud | Hadoop | Key/Value | Time Series | Graph | Search engines | Embedded
Relational

Analytics

Document-oriented

Cloud

Big Data / Hadoop

Key Value

Apache Cassandra
A free and open-source, distributed, wide column store, NoSQL database management system designed to handle large amounts of data across many commodity servers, providing high availability with no single point of failure
Redis
An open source (BSD licensed), in-memory data structure store, used as a database, cache and message broker.

Time Series

Graph

Search engines

Elasticsearch
Distributed, RESTful search and analytics engine. It provides a distributed, multitenant-capable full-text search engine with an HTTP web interface and schema-free JSON documents.
Solr
Open source enterprise search platform. Its major features include full-text search, hit highlighting, faceted search, real-time indexing, dynamic clustering, database integration, NoSQL features and rich document (e.g., Word, PDF) handling.

Embedded
版本比较
DBeaver 23 新增功能
DBeaver 23.0(点击可查看最新版 changelog)
March 13 2023
Database drivers:

A new ODBC driver was added

ChatGPT:

OpenAI (ChatGPT) integration was implemented out-of-the-box in PRO versions

Cloud Explorer:

Azure Cloud support was added
PostgreSQL and MySQL support was added in Azure Cloud

Accessibility:

The text reader for the entity editor was improved
The text reader for the data grid was improved
Font settings are now respected in all editors/popups
Many new keyboard shortcuts were added
The catalog/schema selector now supports keyboard-only mode
Reader texts were localized

Data Editor:

A few elements and behavior in Data Editor were redesigned
The issues with filtering and ordering data were fixed
The context menu was improved

SQL Editor:

Query generation from human language text was added
Query execution plain was improved
Auto-completion issues were fixed

Data transfer:

Data export to Google Sheets and Google Drive was added
Data export in SQL INSERT format now supports custom target table name configuration

Databases:

PostgreSQL: The ability to create a full backup and SSL keys automatic conversion was added
SQL Server: VARCHAR(MAX) data type support and table column comments support were added
MongoDB: issues with running db.runCommand, JSON view and boolean values display were fixed
Teradata: mutiple issues were resolved including secure zones support and kerberos authentication
Snowflake: Schema Compare and Table constraints reading issues were fixed
Redshift: The issue with access to Redshift Datashare was resolved
ChatGPT 在哪里
我们知道你们中的许多人已经尝试过 我们的新功能——GPT-3 AI Assitant,它可以帮助您使用人类语言的句子快速创建 SQL 查询。最新版本的 DBeaver PRO 包含改进的 GPT-3 Smart Completion,其中包括自动查询格式、保存应用程序重启之间的历史记录以及其他完成设置。如果您的数据库架构很大而 AI Assistant 无法处理,您现在可以自定义范围并仅选择您要使用的表。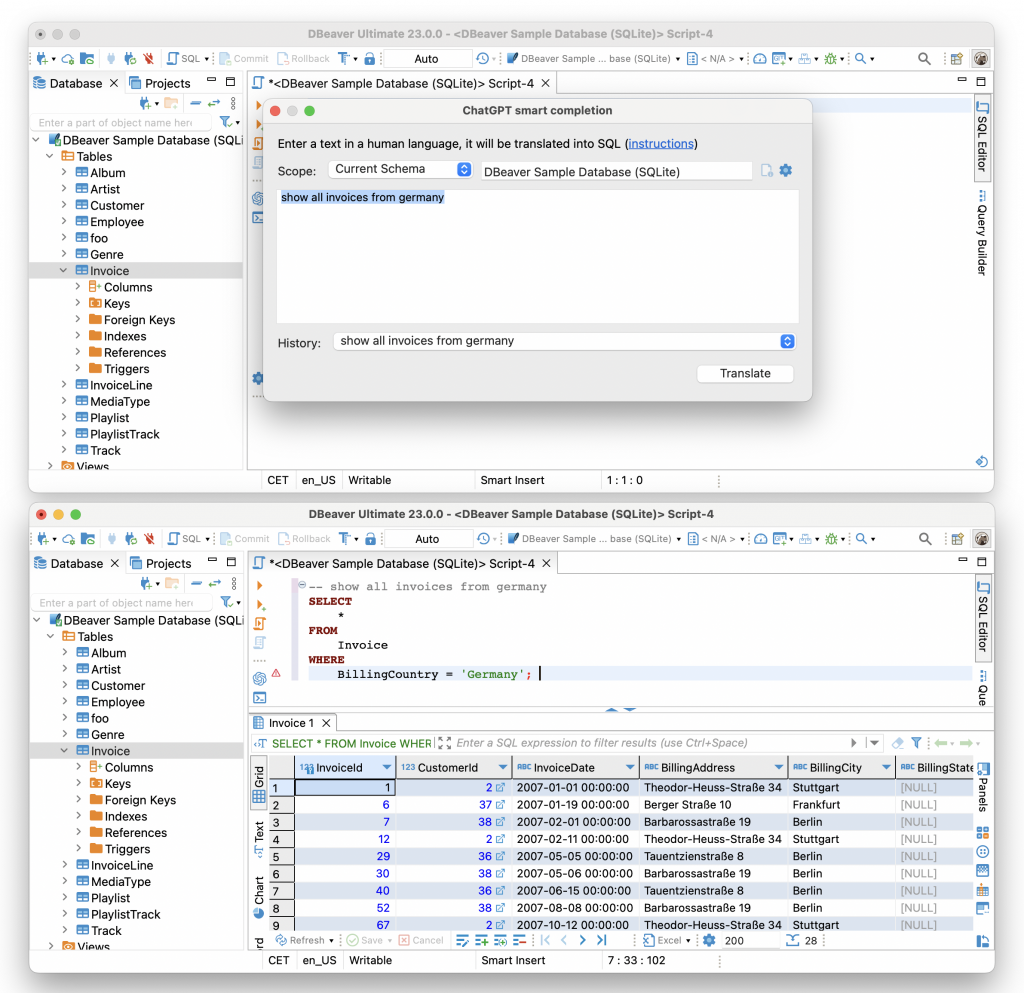 GPT-3 Smart Completion 在 DBeaver Enterprise、Ultimate 和 Team Edition 中开箱即用。默认情况下,该功能被禁用。要打开它,请转到首选项 -> 编辑器 -> AI(ChatGPT)并选中"启用智能完成"框。
下载地址
MacOS DMG – just run it and drag-n-drop DBeaver into Applications.
Debian package – run sudo dpkg -i dbeaver-<version>.deb. Then execute "dbeaver &".
RPM package – run sudo rpm -ivh dbeaver-<version>.rpm. Then execute "dbeaver &". Note: to upgrade use "-Uvh" parameter.
ZIP archive – extract archive and run "dbeaver" executable. Do not extract archive over previous version (remove previous version before install).
Windows installer – run installer executable. It will automatically upgrade version (if needed).
DBeaver Ultimate Edtion 23.0 Multilingual (macOS, Linux, Windows), 13th March 2023
百度网盘链接:https://pan.baidu.com/s/1UCrY-7IEVfmVYn6LNNzycg?pwd=xf6k
DBeaver Ultimate Edtion 23.1 Multilingual (macOS, Linux, Windows), Jun 14, 2023
百度网盘链接:https://pan.baidu.com/s/1lwgCVp0hyt1T5CXBlHl2uQ?pwd=c0c5
DBeaver Ultimate Edtion 23.2 Multilingual (macOS, Linux, Windows), 12th September 2023
百度网盘链接:https://pan.baidu.com/s/1DGZUq7JB347HKb4U8wzQCQ?pwd=rsu8
for macOS:DBeaver Ultimate Edtion 23 for macOS Intel x64 & Apple ARM64 (sysin)
for Linux:DBeaver Ultimate Edtion 23 for Linux deb (sysin)
All Version:DBeaver Ultimate Edtion 23.2 Multilingual (macOS, Linux, Windows) - 通用数据库工具,现已集成 ChatGPT
---

---
文章用于推荐和分享优秀的软件产品及其相关技术,所有软件默认提供官方原版(免费版或试用版),免费分享。对于部分产品笔者加入了自己的理解和分析,方便学习和测试使用。任何内容若侵犯了您的版权,请联系作者删除。如果您喜欢这篇文章或者觉得它对您有所帮助,或者发现有不当之处,欢迎您发表评论,也欢迎您分享这个网站,或者赞赏一下作者,谢谢!
---
☑️ 评论恢复,欢迎留言❗️敬请注册!点击 "登录" - "用户注册"(已知不支持 21.cn/189.cn 邮箱)。请勿使用联合登录(无法接收通知邮件)。
---